No matter ho British or American you may be, you cannot be a nice Sherwani. Why not look brash for your soon to be. Have a look at the list of 10 Mens Sherwani brands below. You'll find celebrity styles, Bollywood styles, traditional, modern, western and classical styles.
Have we missed your collection, drop us a message and we'll get your bridal range added. Have a look at this Sherwani Styles post.
10 Asian Female Wedding Dresses Websites: Wedding Dresses
10 Asian Male Sherwani Style Websites: Sherwani Websites
Sherwani King
The Sherwani King Journey started Sherwani King Teamin 1975 in, when our founder Bobby Shah launched one of the first Asian Wedding Boutiques in the Heart of Green Street London. After 40 years of helping thousands of Brides and Grooms choose the perfect wedding outfit, Sherwani King relocated its showroom in 2015 to Solihull. Today, our sole focus is providing Amazing Menswear for the wedding with a focus on service and quality.
You can view the collection here: Sherwani King
Sherwani King UK
23 Henley Crescent, Solihull
West Midlands, B91 2JD
Sherwani King Pakistan
Shop 6C, Lane 8
Zamzama Mall, Karachi
Sherwani King India
Mehta Mansion No. 11
Sitladevi Temple Road, Mahim
400016, Mumbai
---
Mona Vora
Mona Vora is an Indian bridal fashion designer who has risen to success. She won the winner of the Wedding Outfit Designer of the Year 2019. You can visit MonaVora here.
MONA VORA, UK
Unit G, Queens Road,
Barnet Herts, UK. EN5 4DJ
MONA VORA, INDIA
2nd Floor, Kalaniketan
B/H Nobles, opp Nehru Bridge
Aahram Road, Ahmedabad 380009
---
Traditions
Traditions, London's Award Winning Wedding Boutique is a one-stop paradise for wedding wear offering a high-end bespoke made-to-measure service and classic, contemporary and fusion prêt-a-porter collections available in store and online.
Firmly established as one of the UK's most respected Asian fashion retailers, our flagship emporium is located in Southall, the heart of West London's Asian community. Here you'll discover three floors of stunning designer wear from Asian wedding dresses, Indian bridal clothes and stylish lenghas, to sophisticated saris ideal for the British, Indian, Pakistani or Bangladeshi bride. You can view their collection here: Traditions
Traditions
36 The Broadway Southall
Middlesex UB1 1PT
Traditions
Green Street Forest Gate
London, E7 8JT
---
The Sherwani Company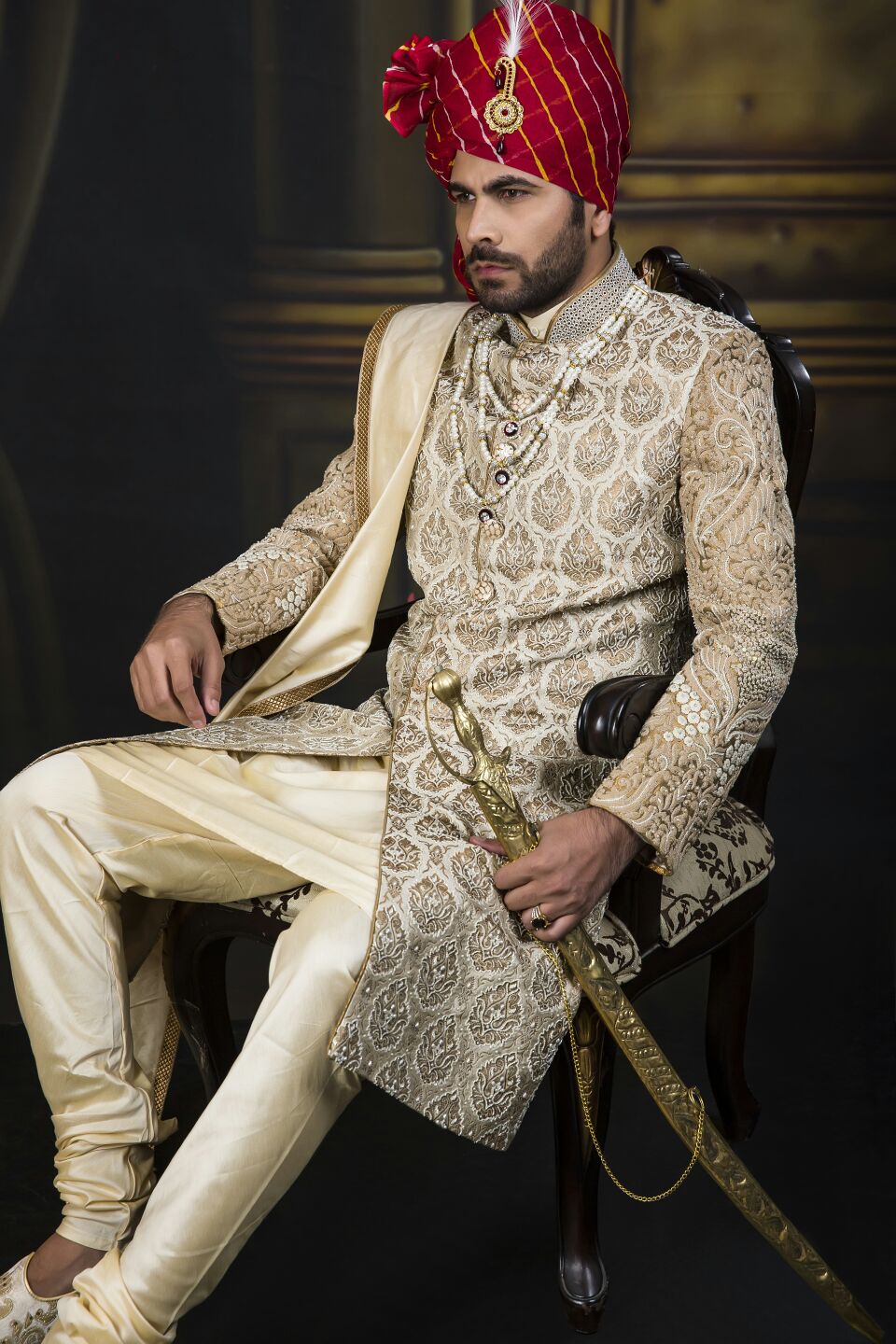 Established in 2008, endowed with a desire to provide men with a place to find the perfect sherwani for that special moment and passionate about what we do, we are focused on providing you with an optimal customer service. The Sherwani Company strives to meet the fashion needs of the man who wants that something extraordinary for the special day.
Whether you are looking for a classic elegant sherwani, a more exuberant elaborate design or something in between, we aim to work with you to create that perfect outfit; whether truly bespoke or made to measure from our glittering collection. You can view the Sherwanis here: Sherwani Company
The Sherwani Company
Unit 7A Atlip Centre
Atlip Road, Wembley, HAO 4LU
---
Monga's
Monga's manage its manufacturing unit in India with more than 740 skilled employees and artisans. With an immense experience of more the three decades of creating artful creations and give them the advantage to have the shortest turnaround time for any given outfit. Monga's specialises in designing outfits from inspirational pictures or something clients have imagined!
Now the family's young millennial Ankit Monga and Akriti Monga who have expanded Monga's avenues to a great extent are holding the baton of the company. Opened new stores in Green Street, London in addition to a bigger store in 60-66 The Broadway, Southall and soon will be launching a brand new bespoke haute couture studio in New Delhi
Check out their Mens Sherwanis here: Mongas
Monga's
60-66, The Broadway,
Southall, Middlesex, UB1 1QB
Monga's Green Street
212 Green St, Forest Gate,
London E7 8LE
---
SONAS
Driven by the quest for perfection, SONAS collection carries garments created for those who stop nowhere short of perfection. SONAS offers an in house design service, particularly for bridal wear, where garments can be designed towards each individual's needs.
SONAS collection consists of bridal wear and occasion wear for Women which have given new definition and rendition to the saree, lengha and churidar even though such garments have been worn by women for hundreds of years.
At SONAS the cuts, fabrics, embroideries and refined embellishments for garments have set new standards for quality, style and innovation. A hybrid between rich customary styles and feminine bravery, SONAS designer palette consists of colours spanning from the traditional to the unconventional. Have a look at the collection here: Sona Couture
SONAS HAUTE COUTURE
48 Ealing Road, Wembley,
Middlesex, HA0 4TQ
---
Onitaa
Men usually love to dress simply yet uniquely. But on your big day, don't stick to the basics. O'NITAA has gone a long way for designing and crafting ethnic Indian wedding sherwanis for every groom. With a touch of royalty and elegance, we create a mélange of ethnicity and modernity like never seen before. Every thread and motif used to embellish the sherwani is meticulously hemmed by the craftsman to create a masterpiece. The distinctive design and impeccable clothing make sherwani look masterpiece. At O'NITAA, you can get your outfit customized adding extra charm to it. Scroll down to see the collection of designer masterpiece.
Heres a link to their collection: Onitaa
Onitaa
33 Elystan Street, Chelsea
London, SW3 3NT
---
Ziggis
Ziggi provides bespoke tailored Asian Men Sherwanis. An award-winning menswear brand specialising in Asian groomswear inspired by the opulence and magnificence of the ancient Mughals. You can view their collection here: Ziggi Menswear
Ziggi Menswear
35 Frederick Street
Birmingham, B1 3HH
You can vie 10 Sherwani Styles here and why not have a look at our Women Bridal Websites list?